Tips for Buying a 10 Line Phone System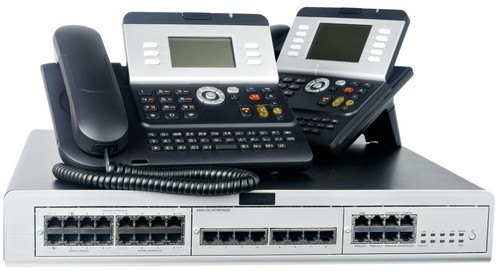 Meeting the communications needs of small businesses, sole proprietorships, non-profits and other organizations calls for custom solutions, accounting for the phone routines of each vertical. Whether it is simply a handful of extensions or an advanced ten line scheme, fine tuning each voice communications system gives companies, schools, and every type of commercial venture the tools needed for success. Especially since comprehensive communication now includes several platforms; computers, portable devices, headsets, and desk top phones are each important to effective professional interaction.
Connecting through email and other channels is important, but phone systems facilitate crucial first-contact between businesses and their customers – enabling real-time communication. Without adequate phone connections and state of the art hardware, however, productivity and profitability eventually suffer. When it is time for phone system upgrades, business owners and other telecom decision makers have several options to choose from, each with its own set of features and functions.
Phone system vendors are well-prepared to recommend specific equipment and software, and to help you weigh the advantages of various advanced phone functions. Details about your office or business operations are all that's needed to work-up custom quotes. The size and call volume of your venture, for example, help professional providers correctly size your phone system – starting with these important questions: Is a single line adequate? Or does your call volume demand a higher functioning, 4-line or 10-line system?
Multi-line Systems
Sole proprietors and others without extensive office communication needs may be well served by a single line phone system, feeding a limited number of extensions. Professional practices, call centers, and high volume facilities, on the other hand, need more lines and extensions to keep pace with inbound callers and outbound dialing. Multi-line solutions furnish flexible alternatives for the varied demands of businesses, from feature-rich 4-line options to systems comprised of hundreds of extensions.
10-line phone systems are adaptable, furnishing versatile platforms for many applications, including businesses, public sector facilities and not-for-profit organizations. Schools, medical outlets and mid-sized companies, for instance, use ten line set-ups to accommodate calling needs, leaving room for future growth and expansion.
Bringing the most capable voice communications to office and commercial environments is easily accomplished, with the help of industry professionals and cutting edge equipment. 10-line systems typically use the following features and components to set the stage for communications success:
Control Unit: Each provider puts forth its own brand of goods and services, so features are not identical across phone system companies. Despite proprietary differences, easy to use 10-line set-ups typically rely on a central control unit to manage each system's functions. The units handle a particular number of lines and extensions, with built-in accessories that expand communications possibilities at each work station.
Phones: Making the most of a 10-line system properly matches phone capabilities with your most important office functions. Depending upon the type of phone system and the number of extensions required, phones can be equipped with various tech-forward features. Look for these built-in phone elements as you compare and contrast hardware options:

Multi-character display screen
Programmable buttons with lighted indicators
Softkeys
Quality handsets
Fully functional headsets
Flexible mounting options

Voicemail: The larger an organization grows, the harder it becomes to answer every call. An efficient voicemail arrangement, routed to individual boxes, is an essential feature of the best modern phone systems. For the best results, installers pair correctly sized voicemail units with other system components, using compatible hardware and software.
Benefits of Modern 10-line Systems
The best approach for each phone system upgrade depends upon several factors. The size and priorities of your office, for example, help define the type of system best-suited to your communications environment. Three common types of 10-line phone systems serve the needs of organizations of all sizes.
PBX PBX systems furnish versatile, programmable 10-line solutions, supporting various advanced functions. These are best suited for companies with at least a few dozen employees. The voice communications platform functions like a dedicated switchboard, which can be hosted on or off-site. A hotel PBX, for example, handles high volume and routes calls among staff extensions and hundreds of guest rooms. While most commercial environments don't call for the extensive capabilities of a private branch exchange, even companies with 40 or 50 staffers gain efficiency and higher functionality with a modern PBX.
Key Systems This familiar solution proves workable for many small businesses and organizations needling a limited number of extensions. The highly reliable 10-line key systems are hard-wired to each commercial location, linking staff and outside callers through a central Key System Unit (KSU). Though affordable and appropriate for wide-ranging applications, professional installers and service providers must be contracted to get the most from key systems. One in place, however, the systems are easy to master and train, serving organizations with fewer than 40 users.
KSU-less Phone System KSU-less systems are well-suited for companies with 10 or fewer employees. And though they are used commercially, the phones are much like residential models. The systems are economical, because they can be installed and programmed without a technician. There are limitations, however, so your 10-line upgrade may not integrate with other office technology.
When graduating to a greater number of lines, it is a good time to look at the cutting-edge technology behind today's best systems. Internet voice connections, for instance, have become commonplace, replacing phone lines at many commercial facilities. Voice over Internet Protocol (VoIP) technology is not only economical to install, but the virtual approach effectively streamlines communications for many users.
Communications hardware has itself evolved, furnishing advanced capabilities unavailable only a few years ago. Bundled systems from Nortel and other reputable providers include everything needed to launch communications upgrades. For example, one popular package from the telecom leader accommodates 8-lines and includes 10 high-functioning Nortel phones – all for a package price of around one-thousand dollars. Of course installation and service agreements add to the overall cost of any phone system.
Alternative phone systems offered by Cisco and other telecommunications companies extend similar basic features, but may also provide industry-specific benefits within your vertical. In order to make the most of your phone system budget, compare and contrast available software and equipment, leaning on industry experts familiar with the latest technology. With the help of expert recommendations, a well-designed communications strategy will cover today's needs and furnish expansion possibilities for your growing business.