Multi-line Phone Systems and Their Benefits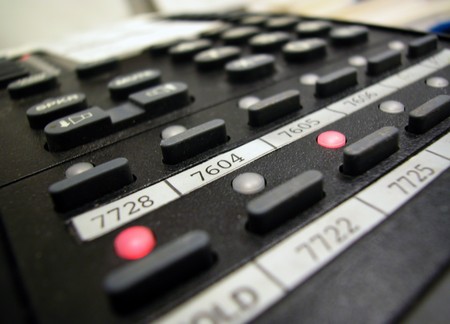 Communications needs fall across a wide spectrum of capabilities, each serving essential functions for businesses and non-commercial facilities. An extensive assortment of equipment and services get the job done for diverse organizations, ranging from small, self-administered phone set-ups, to fully hosted communications systems, rich with features and functions. Modern Internet-based possibilities, in particular, have changed the way commercial organizations stay connected, presenting custom options unavailable only a few years ago. While small offices are served by basic phone systems, multi-line alternatives provide flexibility and greater functionality than rudimentary, single-line phone set-ups.
Adequately preparing for phone system upgrades includes a close look at the needs of your organization, and professional consultation, to point out appropriate solutions for your office communication demands. One of the first questions to answer is whether one line will address your call volume, or if a multi-line alternative is a better approach. Once you've identified the most needed services, phone system professional are prepared to step-in with recommendations.
Understanding Multi-line Phone System Options
There are a number of things to consider when contemplating the communications needs of your organization. Ruling out a single-line phone system helps narrow your search, and once a multi-line strategy is chosen, the particulars must be defined. By spelling-out must-have functions, and partnering with a reputable partner, you'll be well on your way to a phone system installation that meets your expectations.
In practice, multi-line phone systems can be implemented in a number of ways. For the best results, consider how communications unfold in your office. Do you require individual direct lines, with separate numbers for each employee? Do users each require external dialing capabilities? Does your facility receive a large number of faxes, calling for direct routing or dedicated lines? Answers to these questions go beyond the basics, which also include these fundamental concerns:
What is the typical daily incoming call volume to your facility?
How many employees regularly connect using your phone system?
Is a traditional wired PBX your best approach?
Do Internet-based alternatives better speak to your office flow?
Equipped with a snapshot of your communication must-haves, it is possible to compare and contrast multi-line systems made available by industry-leading providers. When it is time to upgrade, consider these widely used multi-line solutions:
Are you ready to purchase a multi-line phone system? Try our free pricing tool and choose the best price on a phone system.
4-Line Phone Systems Answer the Call for Diverse Organizations: Multi-line communications systems are virtually unlimited in size and scope. Massive call centers and other high volume locations may need dozens of incoming lines, or trunks, to adequately account for call volume. For many small to mid-size organizations, however, a 4-line phone system covers calling demands. Lines should not be confused with extensions. When a business installs a four-line system, for example, it easily accommodates a dozen or more extensions. Rather than identifying the number of desktop units, lines instead refers to the number of incoming service trunks – each supporting multiple extensions.
Companies like AT&T, ShoreTel, Cisco and others each put-forth proprietary 4-line phone systems, capable of raising the bar for your company. AT&T's 10 Series business phones, for example, furnish four-line connectivity and intuitive, supporting features. The units, available for around $100 each, are 4-line enabled, with integrated speakerphone functions, caller ID, and call-waiting. The corded desktop units are expandable, up to 16 stations. Complete systems offered by the noted telecom provider are available for under $1000 each, furnishing support for four analog lines and as many as 24 users.
10-Line Options Serve Larger Facilities: When a four-line system doesn't quite cover all the bases, organizations turn to larger multi-line systems. Eight and ten line versions are commonly implemented by businesses and non-commercial facilities accommodating more than a couple dozen users. The systems are commonly installed using a base control unit, serving all the connected phones.
Providers like RingCentral offer multi-line phone system plans, which are contracted for a monthly maintenance fee. These affordable options serve businesses that would rather leave phone system management to professionals, in order to focus resources on important business concerns. The company's virtual, cloud-based telephony services furnish bundled packages, equipped with the most-used functions, for each organization's particular office environment. In addition to hands-off management, the IP telephony solutions are secure, flexible and scalable.
Using Multi-Line Phone Systems to Gain Competitive Advantages
Single-line phone systems are common for residential applications, but performance falls short for most business environments. Some ventures are well-served by two incoming lines, which can be dedicated to voice connections and fax lines. Large and mid-sized organizations, on the other hand, are best served by multi-line phone systems, which have significant advantages, when compared to less powerful solutions. Multi-line systems facilitate the following competitive advantages:
Adaptability: Multi-line systems can be implemented using a PBX to route call traffic. The switchboards are administered in-house or hosted offsite by telecom providers, using the Cloud. Depending upon the needs of your organization, systems can be set up to accommodate cordless handsets and other needed functions. Well-executed multi-line systems have advanced features you'd expect from a custom phone set-up, without a prohibitive price tag. In fact, these cloud systems can actually save you money – even as your communications capabilities are enhanced.
Scalability: Business needs change rapidly, so the best phone systems leave room for your organization to grow. Adding features and extensions, for example, is not difficult. By investing in a scalable system now, you'll avoid significant infrastructure costs later.
Fully Integrated: Communication platforms are more numerous than ever before. As a result, the most effective multi-line systems integrate with your comprehensive office communications mechanisms. Mobile capabilities, computer functions and multi-line systems should interface seamlessly, in order to create continuity for customers, clients, partners, and internal collaborators.
Whether you need the enhanced functionality of a 4-line business phone system, or the flexibility to grow with an expandable 10-line set-up, upgrading to a multiline system sets the stage for trouble-free connections. In order to make the most of your communications budget, consult with reputable providers, for cutting edge recommendations.