How to Decide on a Conference Phone System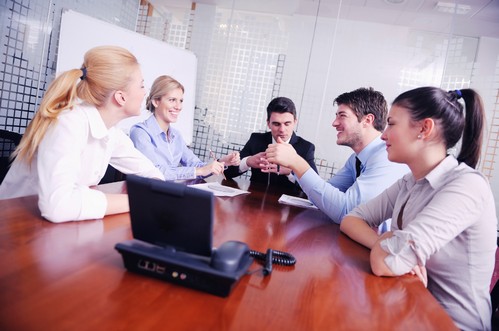 Clear communication serves vital functions for businesses and other organizations. In addition to connecting in-house staff, effective communication structures account for the needs of outside collaborators. Fortunately, modern platforms offer comprehensive connectivity, supported by high-functioning software and equipment. Using the best available systems; email, phone calls and mobile connections are seamlessly integrated into a single system, empowering users to excel. As part of an all-encompassing communications strategy, phone systems are also equipped with advanced conferencing functions capable of simultaneously linking dozens of associates for remote meetings.
Each phone system company offers its own unique suite of equipment and services. These experienced vendors are prepared to help identify your needs and implement proper phone system features. In order to make the most of your budget, consult with multiple providers, investigating each option with an eye toward value and performance. There is no reason to settle for ineffectual conferencing capabilities, so high expectations are in order. Due diligence and productive telecommunications partners are all you need to elevate your conference system. Use these examples to guide your search for improved conferencing capabilities:

| | | |
| --- | --- | --- |
| Brand | Benefits | Costs |
| AT&T Office Solutions | Conferencing speakerphones and headsets are the basis for these adaptable systems. The company's Syn248, for example, covers 24 users, connected through 8 lines. | Bundles packages include hardware and services. A three-user 248 starter bundles, for example, is available for less than $800. |
| Avaya IP Office Platform | Unified communications are the end goal for many organizations, seeking to streamline and create cost-effective phone connections. Avaya specializes in building custom office solutions, encompassing conferencing capabilities alongside other needed features. | Expandable from 5 users, to thousands, system pricing reflects each company's needs. |
| Polycom Voice Conferencing, Video Collaboration and Content Sharing | Polycom systems suit office environments found on campus, in industry, and within the public sector. Multiple conferencing options create cutting edge access to collaborators. | Custom pricing available upon request. |
Effective Conferencing Solutions Elevate Phone System Performance
Business practices have evolved, so conference capabilities are an increasingly important part of commercial phone systems. For starters, more organizations endorse telecommuting than in the past, so the workforce is spread across a larger geographical area. Conferencing technology brings these remote workers together, efficiently accomplishing something that might not otherwise be possible.
Commerce is ever more global in nature, so in addition to linking domestic associates; conference phone systems reach out to international clients and partners. Businesses without state of the art conferencing capabilities, on the other hand, stand out among the competition – for all the wrong reasons.
Audio and Voice Conferencing: Audio conferencing features enable multiple parties to connect using phones and/or computers. Whether utilized by only a few individuals at one time, or dozens, the systems bridge geographical divides for modern organizations. Conferencing is reliable and easily executed without a steep learning curve. Bringing participants together through audio connections ultimately saves on travel costs and streamlines communication between remote associates.
Audio conferences are conducted in a number of ways. In its simplest form, basic three-way calling facilitates small scale conferencing, but modern services furnish further features. Typically, an organization contracts with a provider specializing in audio conferencing. Using a provided toll free number, each participant is able to enter a code to join a conference. Toll calling versions are also made available for organizations sharing this preference.
Audio meetings can also be connected using the Internet. Speakers or headphones facilitate listening, while those wishing to speak must also connect with microphones. In fact, extension microphones can be used to mic an entire room, rather than relying on individual extension connections.
To utilize the service, users visit Websites set-up to handle conferences. Participants can invite others to join, as well as handling additional tasks, using the online interface. Another conferencing option, known as a virtual meeting room, is similar, but does not require meeting hosts to invite each participant. Instead, the "door" is left open, allowing collaborators to come and go without formal invitations. These adaptable remote conferencing strategies enable voice communication between users, but conference participants can also use advanced features to share files, conduct group presentations, and engage in person-to-person messaging.
Video Conference Advantages: Technology opens doors, so the face of teleconferencing continues to evolve. Video capabilities, for example, enable collaborators to join conferences using cameras and sound equipment, for more of a "face-to-face" feeling. The technology is not new, but continues to improve, furnishing reliable connections and clear images. The interactive process can be shared by two individuals, sitting in different locations, (point to point) or by groups brought together by a single video event (multi-point). With so many communications platforms available today, why participate in video conferences? For starters, video conferencing:
Facilitates live conversations
Saves money by reducing travel costs
Can be conducted on a moment's notice
Assists when visual features are important to shared messages
Custom Functions Offer Teleconferencing Success
Each conferencing service provider puts forth unique programs, so it is important to compare and contrast possibilities, before making commitments. Companies like Polycom, for instance, promote voice and video conferencing solution appropriate for diverse organizations. The company's RealPresence Trio offers an innovative three-point conference phone, adaptable to accommodate wide-ranging voice and video needs.
Cisco Spark furnishes another branded conferencing solution, enabling users to meet, chat and share information, using the company's proprietary software and equipment. Options are sized for the needs of each organization, providing cost-effective conference capabilities for varied industries. As you contemplate conferencing upgrades, consider the following possibilities:
Service Without Reservations: This feature furnishes conference services on a pay-per-use basis without advanced reservations. The flexible function accounts for fast-paced business environments and last-minute meetings.
Integration With Microsoft Environments: Make the most of your Microsoft Office 365 cloud based PBX system.
Voice Activated Switching (VAS) or Continuous Presence Video Conferencing: Depending upon the needs of your organization, service providers may recommend particular video conferencing options. VAS screen display shifts between users, to features each speaker as they share. Continuous presence, on the other hand, shows all participants simultaneously.
Operator Assisted Service – Users looking for a seamless, hands-off experience contract providers capable of planning, managing, and executing conferencing events.
Acoustic Echo Cancellation: This feature uses an algorithm to stop echoes from interfering with sound quality. Without it, participants sometimes experience bounce-back, hearing their own voices through connected speakers.
If your organization conducts business from multiple locations, conferencing systems are a must-have component of your commercial phone system. Video and audio conferencing systems are also essential for servicing remote clients and partners. Are you missing-out on the benefits of advanced conferencing solutions? If so, consult with multiple vendors today, for program particulars and projected system costs.