Empowering Your Workforce with a Remote Phone System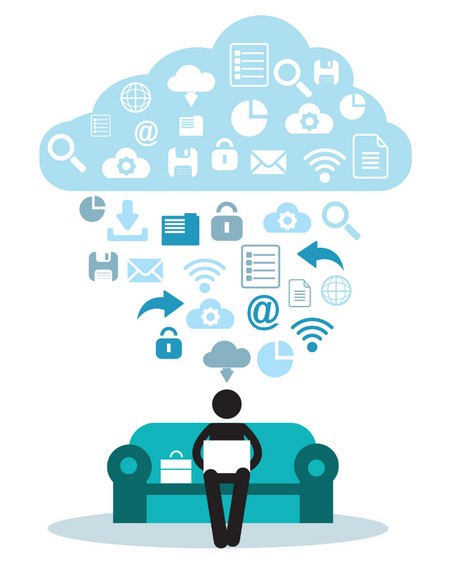 Business communications have undergone some radical changes over the last few decades, with office phone systems becoming more responsive and more cost effective than ever before. Much of this can be attributed to the rise of VoIP technology, which has revolutionized modern telecommunications and put a vast new array of features and functions at the fingertips of office workers around the world. But VoIP technology has done much more than simply improve office communications. It has also changed the very shape of the office work environment. Today, employees are no longer bound to their desks by outdated landlines. With a VoIP enabled phone system employees can work remotely, from their home, a hotel, or from the field, while staying connected to the office network via the wonders of the internet.
Telecommuting: For a More Modern Workforce
Now, more than ever, businesses rely on advanced communications and greater mobility to succeed in an increasingly competitive marketplace. Telecommuting has become, if not the norm, much more common place, and remote workers are making up an ever greater percentage of today's workforce. This offers some definite advantages to the modern business owner, for example:
Valuable employees with health issues that may prevent them from coming into the office can now work from home, making much needed contributions to the success of the enterprise.
Sales staff and other personnel can be deployed into the field, while remaining fully connected to the office communications systems.
Management can stay constantly connected to the office network while traveling abroad for business meeting and important consultations.
Business owners can gain access to a wider pool of highly specialized talent, hiring employees outside of their home base and keeping them connected via a VoIP enabled remote phone system.
Still, to reap these benefits it is necessary to have an office phone system that supports remote workers, and that means choosing a communications network with VoIP capabilities.
Choosing the Right Communications Platform
In order to take advantage of a remote workforce, it will be necessary to have installed a VoIP enabled phone system. Traditional PBX systems, relying as they do on established landlines and local telephone infrastructures, do not support telecommuting features. Therefore, business owners have three basic options from which to choose:
IP-PBX System: Heavily hardware-based, IP-PBX systems can be expensive to install and maintain, and are generally better suited to larger organizations with on-site IT departments. However, they do offer some distinct benefits – chiefly that they can be incorporated into an existing legacy telecommunications system.
Hosted VoIP PBX: The most popular phone system solution for small and mid-sized businesses, a hosted VoIP PBX is hosted off-site by the service provider. Hosted VoIP systems deliver a feature-rich telecommunications environment, including full support for remote workers. Because hosted VoIP systems require minimal on-site hardware, they are an extremely cost effective choice for cost conscious enterprises.
Virtual VoIP PBX: A Virtual PBX (sometimes referred to as a Cloud PBX), is similar to a hosted VoIP system in that there is no on-site hardware to install or maintain. The phone system itself, including all features and functions, are delivered via the internet with a web-based interface. Virtual PBX systems are highly cost effective for smaller business, though they typically offer few features as compared to a hosted VoIP solution.
All of these phone systems offer support for a remote workforce. Employees, whether at home, in a hotel, or located at an off-site branch, can connect to the principle office network simply by plugging into any active Ethernet portal. Phones will have their own individual extension numbers, and calls will be trafficked through the company network. Support is also provided for smartphones, tablets, and softphones using specific networking apps that slave the device to the company phone system. The features and functions of the office network can be extended to all remote locations, fully integrating all of your employees under one telecommunications umbrella.
The Benefits of a Remote Phone System
There are many benefits to a VoIP enabled remote phone system, not the least of which is greater mobility and efficiency for your employees. Companies that have embraced the telecommuting revolution have found that their staff is not only more productive, but happier in their work. This improves company morale and promotes the retention of valuable employees. Business owners will also find that the savings associated with a VoIP compatible phone system will extend to all of their remote workers, as those calls will now be channeled through the company's main communications network, eliminating costly long distance charges and reducing communications costs.
A remote phone system can bring a new versatility to your workforce, as evidenced by the following distinct advantages:
A Diversified Call Center: Call centers no longer need to be bound to a single office location, allowing branch offices and home workers to be connected to a single communications network.
Improved Staffing Opportunities: Business owners gain access to a wider pool of potential employees, allowing you to source highly skilled talent from outside of your immediate geographic location.
Flexible Staffing: Telecommuting allows employers to accommodate staff members with health issues that may make it difficult for them to travel to and from the main office. A remote phone system also allows parents to work from home when their children are ill or out of school for the day. Seasonal staff can be added quickly and efficiently to handle upcoming spike in business traffic.
A More Mobile Workforce: With applicable software apps, employees in the field can remain connected to the home network via cell phones and tablets regardless of their physical location. Management and staff on business related trips can connect to the company network from any active Ethernet port.
Feature-Rich Communications Environment: Whether at home or abroad, working from the office or from a hotel suite, employees will have access to all of the features and functions of the company phone system. That includes call conferencing, call forwarding, voicemail to email notifications, and inter-office communications. This promotes greater efficiency and productivity in and out of the office.
Enterprise-Class Performance: All employees will experience the same level of professional service whether working from the office or from a remote location.
Increased Control and Security: Remote workers, and employees in the field, will be channeled through the company's own communications network, ensuring that sensitive calls are restricted to a secure connection.
Reduced Costs and Simplified Billing: With all calls being routed through a single telephone system, billing will be greatly simplified. The VoIP technology that supports your remote workforce also eliminates hefty long distance charges and toll calls, keeping the company phone bill to a minimum.
Comparing Remote Phone Systems
Remote phone systems come in a variety of shapes and sizes, and no single solution is right for every business model. Larger enterprises may benefit from a hardware-based IP-PBX, while smaller and leaner businesses may find a hosted or virtual PBX is the better answer to their own specific communications needs. Naturally, the final decision will be largely influenced by cost considerations, but that should never overshadow the available features and functions being offered. Office phone systems that support remote workers are available from a wide range of manufacturers and service providers, and it is important to fully research your options before making your final choice.
The following firms market fully compatible business-class remote phone systems for small and mid-sized business of every type. You will find that most of these companies provide differing levels of service and features, depending on type of phone system and desired price point.
ShoreTel
Cisco
NEC
Virtual PBX
Avaya
Vonage Business Solutions
As always, when choosing any phone system it is important to take your time and investigate all of the options available. VoIP and Remote Phone Systems can be an invaluable addition to any enterprise, but only when they are integrated intelligently into your existing business model.
Consider your specific needs as a business owner, as well as the needs of your employees and customers, and concentrate on finding a phone system that not lonely improves overall efficiency and productivity, but also lays the ground work for future growth and success.