Strengthen Office Communication with an Intercom Phone System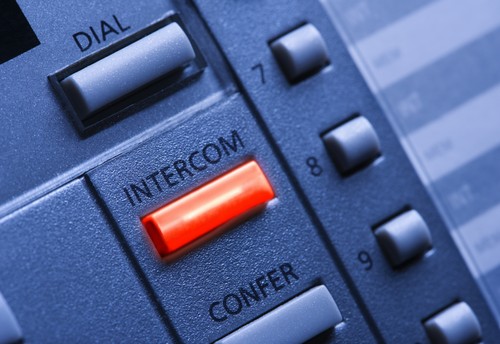 Today's competing communication platforms furnish more ways to connect than ever before. Digital solutions, in particular, continue to change the playing field for personal contact and business communications. Email, texting, mobile communications and other advanced capabilities operate alongside good old-fashioned phone calls, supporting reliable connections for commercial ventures of all kinds. If your organization relies on the cross-pollination of insight and ideas, an intercom feature can be added to elevate your phone system performance, providing quick access between collaborators.
An intercom represents only one feature of a comprehensive phone system, so it should be considered alongside other forward-looking functions. Straightforward intercom phone system solutions are easy to operate and go a long way keeping staff in sync. What's more, adding intercom functions is not an expensive proposition – especially when included with a telecom package. When it is time for your organization to explore the benefits of intercom phone systems, examine the needs of your operation and seek commercial phone vendors familiar with this widely used solution.
Bring Intercom Benefits to Your Business or Organization
Facilitating internal collaboration is as important as maintaining conduits connecting external partners, clients and customers. Too often, keeping workers linked within the same facility takes a back seat to accommodating outside connections. Intercom phone systems furnish a simple way to cover all the bases. Instant intercom functions are:
Convenient
Economical
Simple
Productive
Efficient
Secure
Modern commercial telephone systems go beyond basic voice connections. These advanced communication tools are now used to conduct tasks ranging from video conferencing to automatic call recording. The best systems are customized to account for the needs of your organization – including intercom functions designed to keep on site staff connected.
Each organization has unique communication requirements, so it is important to define your needs before establishing service. Paging features, for example, are appropriate for facilities needing a one-way conduit for making in-house announcements. Intercom, on the other hand, enables two-way communication. Bring these and other considerations to reputable vendors, to ensure you get the best value and highest level of performance from your phone system. For many users, a combination intercom/paging function may be the most comprehensive approach. An announcement could then be broadcast to multiple staffers using a paging system, only for them to respond individual using intercom handsets.
Intercom Phone System Solutions
Cisco remains an industry leader, devising custom phone system solutions for businesses, non-profits, schools, health care facilities and public sector offices. The company's systems enable data, voice and video functions on a single secure network, simplifying phone functions, without sacrificing needed features. Small businesses needing intercoms, for example, benefit from Cisco's intuitive packages, which include these advantages, among others:
Paging
Intercom Systems
Voicemail
Automated Attendant
By integrating communication across a single system, users save money and enhance productivity. Intercom features are particularly valuable for organizations operating large facilities. Keeping collaborators at their work stations, for instance, enables them to use Internet services and telecom functions simultaneously, without traveling to other parts of the building. Facilities with outdoor components also benefit from intercom systems, enabling workers to connect to outlying extensions, without leaving their seats.
RingCentral, another reputable service provider, puts forth an office intercom feature as part of the company's comprehensive telecom service. The function enables users to share announcements with co-workers, regardless of where each work space is located within a facility. A parked call or visitor, for example, is easily announced using this system, creating efficiency within and organization and ensuring external associates receive the highest possible level of care.
Intercoms made available by RingCentral can be customized, to select precisely who has access to your extension. Users can also use Soft phones and Smartphones to initiate intercom contact with RingCentral desk phones. The company uses Cisco and Polycom phones to facilitate its proprietary services. Speakerphone capabilities work alongside intercom functions to provide a hands-free experience.
As you compare and contrast intercom system options, consider which additional features you may require. Intercom phone systems are commonly equipped with basic functions like:
Extension Monitoring
Call Waiting
Caller Identification
Remote Set-Up Capabilities
Some additional providers to consider, as you compare and contrast today's forward-looking intercom phone system options:

| | | |
| --- | --- | --- |
| Brand | Benefits | Costs |
| Intercom Online | Nationwide coverage and adaptable office plans. | One IP office phone system offered by the provider has an advertised rate of $33/seat – including unlimited incoming volume. |
| RCA 4-Line Expandable Intercom Phone System | Caller ID and other expected features are included in this scalable system, which is easily expanded as intercom system requirements grow. | Base units equipped with intercom functions cost $125 – $150 each. |
| Panasonic KX – TS4200 | Speakerphone and intercom functions make it easy to communicate in-house, with other users connected to this 4-line system. | These basic Panasonic phones cost approximately $100 each. |
| XBlue X16 | Self-install systems make it easy to connect – without costly installation spending. The X16 connects to as many as 6 lines, using standard telephone wiring. | Depending upon the number of phones needed, systems bundles are available in the $1000-$1500 range. |
An important early consideration for those contemplating system upgrades is whether to use traditional phones or
utilize connections made over the Internet
. Voice over Internet Protocol (VoIP) is a modern alternative gaining favor with organizations of all sizes. The technology sets the stage for a feature-rich system, offering functions unavailable using traditional phone lines.
A VoIP system can be administered in a number of ways. For facilitates wishing to focus on core business concerns, rather than communications management; vendors offer fully hosted VoIP alternatives. These services are made available for a fee, so may be more expensive than self-managed versions. Delivering better service and increasing productivity within your office may be worth the extra cost, however, so this consideration must be measured according to your phone system needs.
Whether you operate a large commercial facility or maintain an intimate office setting, an intercom function is a valuable piece of your phone system. The easy to use, cost-efficient tool makes it easy for staff to dialogue within your facility, and adds to your customer service capabilities. As part of a well-executed communications strategy, intercoms quickly pay for themselves, adding efficiency and consistency to intra-office collaboration.
Are you ready to purchase an intercom phone system? Try our free pricing tool and get multiple intercom phone system price quotes from dealers near you.