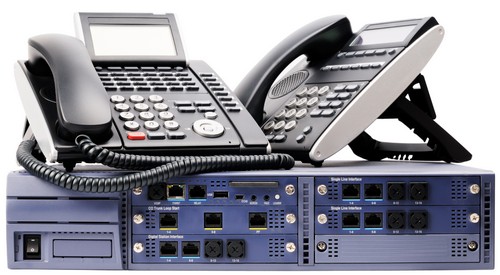 Business Phone System Types
If you're on the lookout for a new business phone system or system upgrade, you've likely realized by now that phone system types vary greatly. A small business or startup company may begin with a single line phone system and soon expand to a multi-line phone system with 4 lines, 10 lines, or more.
And the differences don't stop there. A business will be presented with a number of options in a basic phone system, including a standard PBX internal phone to connect all staff members, an intercom phone to communicate with employee extensions, or an automated phone system to route calls automatically without the need for a receptionist.
What types of business phone systems are available?
Before you can move on to the key features that your business needs in a phone system, it helps to understand the basics of office phone system types, including:
KSU: KSU stands for Key System Unit, also available keyless. A KSU-less phone system is a standard telephone that can be used in a small office with less than 10 employees. A KSU phone system can support a small business with 5-75 employees, offering a hybrid of key telephone and PBX features.
PBX: Most large businesses with more than 75 employees rely on a PBX phone system. A PBX system is versatile and can support more complex communication processes in a large company. Although a PBX phone system may cost more upfront, it is easily customizable to grow with a business.
VoIP: The newest business phone system technology connects directly to the Internet to communicate seamlessly with multiple offices or remote employees. A VoIP system may be traditional or hosted; a hosted VoIP system is convenient since phone equipment is hosted through a third-party provider, although it may cost more than a traditional VoIP setup.
Don't let the terminology scare you off. These helpful guides can get you up to speed in no time. And when you're ready to talk to a supplier, just fill out our quote request form to get connected immediately.
Browse Articles by System Type:
4 Line Systems
Affordability and flexibility are key advantages to the 4-line system. Find out more about these extremely popular phone system types. Learn More
10 line Systems
Ten line systems are extremely common in small and medium sized business. But do you know the difference between PBX, KSU-less, or key systems? Learn More
Advanced Phone Features
It's an exciting time in the phone technology market. Advanced features are becoming more affordable daily. Find out what features your business might need. Learn More
Auto Attendant Phone System
Routing calls quickly and effectively reduces the time a person waits on hold – which can greatly improve your customer's satisfaction. Find out more on auto attendant systems. Learn More
Conference Phone Systems
Whether you're looking for a traditional conference phone or an advanced video conference system, be sure to review your available options. Learn More
PBX Systems
One of the more common phone system types, PBX systems have great advantages. Learn more about the available features. Learn More
IP Phone Systems
IP phone systems can save money, improve voice quality, and aid in scaling. Find out more about IP-based communication systems. Learn More
IVR Features
Creating a fully customized call experience for your customer can be a major contributor to customer satisfaction. Discover all the options IVR offers. Learn More
Remote Phone Systems
For traveling and telecommuting employees, remote phone systems are a must. And now, they're more affordable than ever. Find out how to get started. Learn More
Phone System Features
No matter the phone system type, there are numerous features to select from. Find out what features your business may benefit most from. Learn More