Modern Work Flow Calls for Mobile Business Phone System Solutions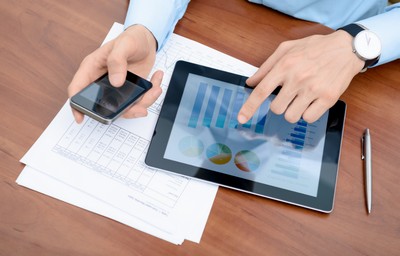 In the past, phone system vendors shopped several options to businesses and non-commercial ventures seeking service. Key systems and other reliable performers once set the pace, meeting the needs of diverse organizations. While these tried and true methods still furnish valid alternatives for office communications, the playing field has changed alongside technology, creating new possibilities for organizations of all kinds. Mobile business phone systems, for example, serve the needs of modern companies operating in today's increasingly mobile business environment.
It isn't difficult to see pervasive mobile communication options growing in popularity, within every segment of society. Smart phones and similar devices perpetuate texting and other convenient mobile contact, shaping the way personal interaction unfolds in modern society. Professional environments are no different, evolving in ways that speak to mobile business needs. As your organization develops, keeping pace with communication technology is vital to ongoing success. When a forward-looking approach is called for, use a state of the art mobile business phone system to maintain your competitive edge.
Mobile Trends Impact Phone System Preferences
Research shows more than 60% of the population with smart phones these days, compared to only 35% five years ago. The trend illustrates how important mobile communication is to the broader population, so it naturally carries over to the way people do business. If your organization works without the latest mobile capabilities, you are not making the most of modern communication technology. Consulting with knowledgeable phone system providers is the first step toward improved mobile coverage.
Traditional phone systems rely on wired extensions and telephone networks to route calls and handle traffic. Technology adds further capabilities, eliminating dependence on yesterday's communication infrastructure. Instead of standard phone lines, today's systems are served by Internet connections. The technology is game changing for individuals, but the real power of Internet based phone communications is harnessed by commercial organizations with advanced voice communications needs. In fact, IP systems don't stop at voice potential. On the contrary, well-executed modern systems support comprehensive, integrated functions enabling users to synch organizational communications – including mobile phone connections. Mobile phone systems are particularly valuable for:
Travel and Telecommuting: Workers on the go require telecommunications service, wherever they happen to be situated. In an increasingly global business environment, the ability to connect with the home office is not taken for granted. Mobile business phone capabilities bridge geographical divides on the road, furnishing immediate access to associates and information, back home. In addition to office-based workers travelling on the job, the remote, telecommuting work force continues to expand. Mobile connectivity helps employers keep staff synched, even when key role players are dialing-in from remote locations.
Seamless Service for Clients and Customers: Competitive businesses can't leave opportunities on the table, so anything but complete access is unacceptable. Mobile connectivity routes calls to business phones, empowering sales staff and customer service personal to furnish individual attention. Closing deals away from traditional desk extensions ultimately boosts the bottom line; maximizing efficiency and making every caller feel like your most important customer.
Advanced mobile capabilities are one aspect of modern phone systems. As you contemplate moves to improve communications, consider the following functions – each complimentary to a well-conceived mobile phone service program:
High Quality Voice Connections: Crystal clear communications no longer rely on stalwart wired options. Mobile call quality now rivals wired lines, so businesses equipped with mobile features increase their reach – without sacrificing performance.
Conferencing Capabilities: Assembling associates for live meetings is the best way to communicate face to face. Unfortunately, it is unrealistic for today's widely scattered work partners. And the cost of bringing together attendees can also be prohibitive. Mobile phone conferencing services enable far-flung associates to convene for virtual meetings. Audio and video alternatives, each supported by the Cloud, are perfect solutions for group collaboration.
Advanced Messaging: Group and individual messaging functions empower data sharing between mobile associates. In addition to texting, advanced capabilities support group messaging events and individual chat calls.
Smart Phone Email Notifications: Never miss important contact, by covering all your communication outlets, under a single 'umbrella'. Email notifications and alternative methods for viewing faxes and taking-in voicemail are becoming more widespread, offered by providers like Grasshopper, among others. Voice-to-text transcription and other mobile services round out comprehensive packages sold by industry leading providers.
Mobile Business Phone Systems Can Lead to Cost Savings
Installing a Cloud-based or VoIP business phone system with mobile support can help reduce communication costs, for two important reasons:
Cloud Phone Systems Furnish Affordable Mobile Support: When compared to traditional PBX systems, mobile-enabled Cloud PBX is often a more affordable alternative. The lower costs are, in part, derived from package pricing made available by telecom providers, which may not be possible with a traditional business PBX phone system. Infrastructure costs can also be minimized, by using existing connections and adaptable hardware. Phone systems hosted by ShoreTel and other providers come with bundled package features like complete equipment setups, Cloud PBX services, toll-free calling, unlimited Internet fax, mobile apps, and other essential functions.
Increased Efficiency is Like Money in the Bank: In commercial environments, the versatility and efficiency created by mobile phone system support is invaluable to productivity and performance. Measured in those terms, it is hard to put a price on enhanced mobile phone system functions. Suffice to say, an employee that is able to manage calls and connect to his or her home office, via smartphone, is productive, beyond the walls of a facility. By empowering these remote workers with full mobile connectivity, businesses also save payroll dollars, by making the most of in-house and telecommuting staff.
Trends continue to move toward mobile business phone system solutions. Can your organization afford to look the other way as competitors secure their futures with forward-looking mobile phone support? If not, consult with reputable vendors today, for up to date information about mobile business phone systems.