Which Phone System Features Will Benefit Your Business?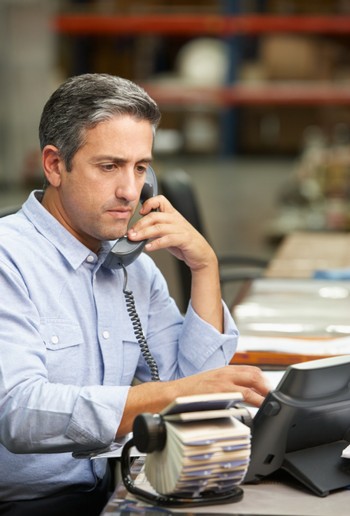 Effective and reliable communication is critical to the success of every modern business, regardless of size or market niche. Now, perhaps more than ever before, businesses demand enterprise-class phone systems that will keep them competitive in a highly charged marketplace. Fortunately, business owners are fairly spoiled for choice when it comes to affordable office phone systems, and there is a wide variety of options available to the ambitious entrepreneur. Of course, where there is choice there can also be confusion, and it's often difficult to determine just what type of phone system would be the perfect fit for your particular business model. But cutting through the confusion isn't too difficult if you begin at the beginning, and concentrate on the most important aspect of any business phone system – its feature profile.
Basic Phone System Features
While the feature profiles of business class phone systems tend to vary according to manufacturer, there are some basic functions that are common to all. Most of these features are fairly self-explanatory, and form the basis of every enterprise-class phone system. This feature set includes many of the most commonly used business communications and networking applications, and are capable of improving productivity and efficiency for small and mid-sized operations.
The most basic feature profile for a business class phone system should include:
Support for Multiple Extensions: Even the most compact office phone system should be able to support a minimum of 10 to 12 separate stations.
Call Forwarding: Easily route calls to a new destination, either from the main switchboard or from an active extension.
Call Waiting: Sometimes referred to as 'Call Queuing', ensures that all calls are answered in the order in which they are received, and that no calls are lost to a busy line.
Remote Voicemail: Retrieve messages from any phone, at any time of day.
Intercom: Allows office personal to remain in contact through an integrated intercom system.
Hold Music/Announcements: Ensures that callers placed on hold remain engaged while the wait for the next available representative.
Advanced Features to Address Specific Needs
Beyond these most basic features, business class phone systems can be as diverse as the companies that manufacture and market them. When choosing a new office phone system, it is important to concentrate on those specific features that will prove most valuable to the success of your enterprise. These more advanced, and sometimes industry specific, features are available from most service providers However, they are not always offered in the same configurations, meaning you will have to prioritize your communications needs in order to find the phone system that best suits your business model as well as your budget.
The following are some of the most popular, and highly sought after, second and third tier features available in an enterprise-class office phone system:
Auto Attendant: This feature is ideal for call centers and larger businesses with multiple branches or divisions. Incoming calls are greeted with a customized message, and callers can be routed to their desired destination via interactive voice and key prompts.
Dial by Name Directory: Perfect for smaller businesses who wish to add an air of professionalism to the communications network. An automated assistant directs callers to their desired extension.
Automatic Call Forwarding: Also called 'Find Me, Follow Me', this feature enures that employees are always available to receive calls even when they are away from their desks. Incoming calls are directed to the employee's primary station, and if unanswered after a preset number of rings is redirected to a secondary station of smartphone. This ensures that no calls are missed when staff members are away from their desks or in the field.
Conference Calling: Vital for businesses with multiple branches, this feature allows for easy teleconferencing between employees and management greatly increasing office productivity. Higher end units will typically support both voice and video conferencing.
Voicemail to Email Transcription: While voicemail is a standard feature with most basic phone systems, it can be time consuming to access and listen to each recorded message. Voicemail to Email Transcription transcribes voice messages to text, and routes them to the employee's in-box making it easier to keep up with messages from valuable customers and clients.
Call Monitoring and Recording: Allows management to listen in on calls in real time or at a later date. Ideal for the training of new employees in high traffic call centers.
Whisper and Barge: Again, this feature is useful as a training tool. It allows management and/or senior personnel to join in on an active call, coaching the employee without notifying the caller. Clients and customers will not be privy to the advice and counsel being given to staff.
Call Screening: Enables caller ID on compatible phones, so you know who is calling and can decide to take the call or redirect it to a different extension or to voicemail.
Click to Dial: One touch dialing eliminates the need to dial and redial commonly used numbers. Ideal for high traffic call centers and businesses with multiple branches.
Mobile Extension: This feature supports the full integration of smartphones into the office network, allowing calls to be forwarded to employees in the field. Mobile extension support also allows smaller businesses to adopt a BYOD (Bring-Your-Own-Device) environment, reducing the costs associated with multiple desktop stations.
Priority Call Routing: This feature is widely available on VoIP and Cloud-based phone systems. It automatically routes outgoing calls according to the most cost efficient method, helping to reduce long distance charges by shunting calls through an active IP connection.
Naturally, the more feature-rich the phone system, the greater the financial investment. As always, it is important to weigh the total cost of the system you are considering (including installation, operation, and maintenance), against the availability of the features you need to support the ongoing success of your business. Before choosing any office phone system, compare and contrast what is being offered from a variety of manufacturers and service providers, paying close attention to both cost and availability of features.
Phone System Management
Another important aspect of any business phone system is its management interface, and this can have a significant impact on your choice of system. Larger, primarily hardware-based, phone systems typically require an on-site staff to manage and maintain performance. This can be cost prohibitive for small to mid-sized businesses, and it is almost always better to opt for a more compact system with an easily managed single server interface. This greatly reduces the need for an on-site IT team to oversee your office communications network. Often, a more cost effective alternative is a hosted VoIP or virtual cloud-based phone system. These have an advantage over traditional telephone systems in that they deliver a feature-rich office environment that can be managed through an easy to use web-based interface. This all but eliminates the need for constant tech support, and gives management direct control over all of the parameters of their office phone system. Again, the final choice will depend on the size of your business, the number of extensions the system must support, and the variety of features you want to have incorporated into your communications network.
The Importance of Scalability
Beyond the choice of available features, it is also important to consider the inherent scalability of the phone system you are considering. The more scalable the phone system the better the return on your initial investment, as your office network will be better positioned to grow along with your business. This aspect of a business class phone system cannot be overestimated. If you lay the necessary groundwork for future expansion, any inevitable upgrades to your communications network will be much more cost effective in the long run.
Businesses of every size and description can benefit from a robust enterprise-class phone system. That being said, all phone systems are not created equal, and there is no one-size-fits-all solution that can be applied across the board. To fully realize the advantages of a business class phone system, and to maximize your ultimate return on investment, it is important to compare and contrast the available features with an eye toward how they will support and enhance your office's productivity. While cost is always a consideration, it should never trump performance. A robust and reliable office phone system, built around the features you need to succeed, lays the foundation for greater versatility in the marketplace, improved customer and client satisfaction, and enhanced productivity in the workplace.