Commercial Phone Systems Serve Diverse Business Needs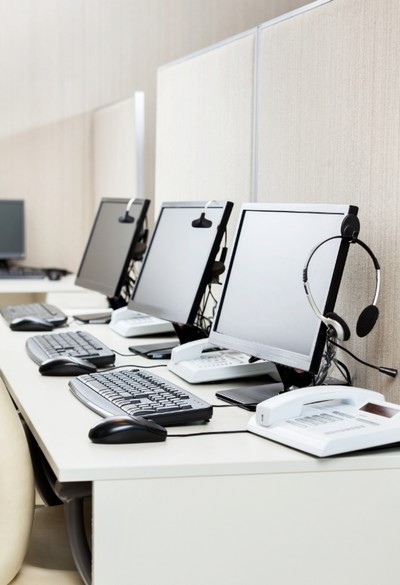 Commercial phone systems perform various functions for corporations and other organizations using them. Depending upon the needs of a particular user, an adequate system might consist of only a few lines and a small number of wired phones, or may call for wireless capabilities and services like call forwarding. Still other facilities perhaps require highly sophisticated commercial phone systems, linking dozens of users and supporting advanced features. Fortunately for operations of all sizes, custom solutions are available from industry-leading phone system providers like Cisco, Nortel and NEC.
Businesses, non-profits, and public sector operations typically require phone capabilities beyond standard residential models. Commercial providers speak directly to the needs of each organization, customizing phone systems to meet specific goals and furnishing reliable voice connections that satisfy expectations. If your near-term capital budget includes a new phone system, there are several important questions to answer, before making commitments.
Which Type of Phone System is Best for My Commercial Venture?
Communications options continue to expand, riding new waves of technology and responding to unquenchable public thirst for convenient connectivity. Mobile phones have become the standard mode of communication among personal users, but the number of phone service options available to commercial users has also grown in recent years.
Traditional Telephone Service or Internet Protocol?
The high level of quality associated with land-based calls is due to tried and true, traditional "circuit-switched" systems, which rely on individual connections to transfer crystal-clear voice connections. Phone system options have grown alongside technology, so internet-based alternatives are also available. One advance, Voice over Internet Protocol (VoIP) systems, also called IP telephony, has become commonplace – now used in businesses of all sizes. This type of phone system uses existing broadband Internet connections to transfer information in "packets", which was sometimes problematic during its early days, when data would be lost or delayed during transfer. The inconsistencies have since been ironed out, so modern VoIP systems furnish workable solutions for a majority of commercial phone system users.
Key System, PBX and Centrex
Key systems or Key System Units (KSU) are traditional phone set-ups, using a series of buttons to distribute calls and select lines. Before the dawn of IP telephony, small commercial clients relied on these simple key systems, while higher-volume facilities used PBX and Centrex structures to manage calls. A Private Branch Exchange (PBX) acts like an automated switchboard, traditionally requiring large and medium-sized facilities to operate the system in house. Centrex, on the other hand, is an alternative provided by local telephone companies, furnishing similar PBX services, which are operated at phone company facilities, instead of individual workplaces.
Rather than selecting on premise PBX systems, many of today's businesses utilize virtual PBX hosting to achieve similar functions, without the added cost of an in-house switchboard. Companies like Jive, Mitel, and Vonage operate cloud PBX services, contracting with individual clients to provide precisely what's needed for meeting organizational objectives. Hybrid approaches are also available, blending the benefits of traditional key systems with the added sophistication of cloud-based switchboard functions.
Advanced Features and Custom Options
The growing number of available communication alternatives makes the commercial phone marketplace more difficult to understand, in some ways, but the expanding suite of custom options also makes more things possible, than ever before. For example, syncing phone system features with organizational goals enhances efficiency in the workplace, furnishing the tools employees need to excel. In fact, phone agent feedback helps communications providers build intuitive systems capable of maximizing productivity and caring for callers.
Two central considerations lay the groundwork for properly matching organizational needs with the correct voice connection resources.
How many lines are sufficient to handle call volume?
How many users will access these lines?
Adding together the number of available phone lines, or "trunks", and the total number of internal extensions yields a number corresponding to a properly sized commercial PBX. For accurate returns, it is important to count credit card terminals, fax machines and modems in the extensions total.
Using this key input, experienced providers build custom phone solutions from the ground-up, adding desired features as they construct systems. Common commercial phone system functions include the following:
Conferencing: Remote call-in enables partners, clients and associates to sit together at a virtual table, even when separated by thousands of miles. Not only are reliable lines required to carry-off seamless conference calls, but the proper hardware, like AT&T's Conferencing Speakerphone, facilitates productive remote meetings. Conferencing saves on travel costs and creates timely resolution – even closes sales.
Those wishing to elevate the standard use video conferencing, an up and coming alternative that visually links two or more dialers.
Cordless Headsets: Hands-free options enable multi-tasking and promote efficiency, so some commercial operators benefit from this portable solution. Research-heavy positions, in particular, often call for keyboarding and document research, so cordless sets quickly pay for themselves with increased efficiency.
Room to Expand: The best phone systems are those able to grow alongside an organization. And since the telecommunications industry continually changes, responding to evolving communication standards is one key to staying competitive.
Intuitive Directories: Dial by name directories and other intuitive aids help callers get through to the right individuals. Though it may seem insignificant, welcoming callers and seamlessly connecting extensions reduces hang-ups and keeps relationships in positive territory.
Automatic Fax Detection – For decades, businesses relied on dedicated fax lines to receive incoming communications. With this money-saving feature installed, commercial phone systems recognize faxes and receive them without the need for a separate phone line.
Hold/Transfer/Park: Essential to call management, basic functions have no room for error. A commercial operation unable to manage incoming phone calls fails on ground level, before contact is even made with potential clients
Automated Attendant: The daily commercial cycle is 24 hours long, day in and day out. As a result, automated attendants are needed to cover off hours, when staffing is not warranted. Well-conceived automated systems also direct calls during business hours and use menu prompts to manage incoming volume.
These custom features represent a small sampling of the flexible options available to modern commercial phone system users. When the time is right to upgrade an outdated or ineffectual system, telecom professionals are well-equipped to highlight tech-forward functions capable of transforming your approach to commercial communications. To ensure success, look closely at your organization's communications needs, and integrate custom phone features that meet commercial expectations.