What Type of Phone System Does a Call Center Need?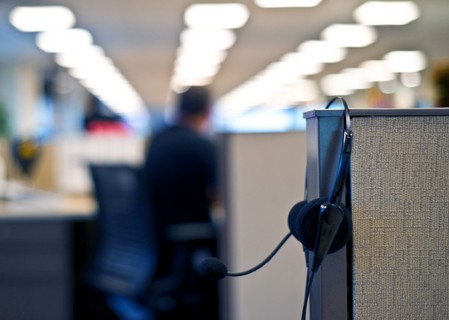 By the very nature of the business at hand, call center operations rely heavily on phone systems. In fact, more than any other business vertical, call center success is built using state of the art communications. Modern phone system designs specifically account for the unique demands of the industry, helping call centers make vital connections with consumers.
In order to meet the needs of large and small facilities, communications capabilities must function flawlessly, enhancing the customer experience, while simultaneously maintaining maximum efficiency for each call center. By using correctly sized phone systems and incorporating custom features, businesses of all types effectively manage call center volume, without sacrificing individualized service.
Phone System Design Follows Call Center Function
Call center operators must answer several important questions before settling on a phone system. Identifying the primary goals and responsibilities of each center, for example, helps dial-in system needs. By pinpointing priorities, business operators and their phone system partners are able to direct resources toward the most important call center objectives.
Inbound Services: Inbound phone systems effectively manage call volume from customers and interested parties making contact with an organization. Although basic inbound call center success starts with answering the phone, various services are handled by inbound departments, including:
Processing Orders
Help Desk Services
After Hours Customer Care
Dispatch
Hotline Activity
Loyalty Program Inquiries
Tackling these and other diverse duties calls for adaptability, so high-performing call center phone systems share the following features:
Flexible: Consistent performance is essential to ongoing success, so effective phone systems are flexible, adequately responding to incoming call volumes. Whether calls are paced steadily, or traffic includes spikes in the amount of incoming activity, reliable inbound systems are prepared to take-on volume demands. The best systems include call screening functions capable of streamlining inbound call flow, based on organizational priorities.
Integrated: Call centers are valuable assets, capable of bringing in new sales leads and cementing existing customer relationships. Unless channels are linked, however, missed opportunities can hurt the bottom line. Effective call center phone systems keep the right users in the loop, making it as easy as possible for agents to connect consumers with the representatives best able to answer questions and provide assistance. In today's multi-channel business environments, it is more important than ever before to supplement web-presence and social media perceptions with well-executed call center interactions.
Efficient: Customer care is the lifeblood of any competitive organization. To keep consumers happy, inbound calls must be managed efficiently, giving each caller the attention he or she deserves. The industry's most effective phone systems include queuing mechanisms, by which calls are received in the order dialers connect. And since state of the art call center systems account for each available phone agent, at any given time, calls flow smoothly through efficient systems – regardless of staffing and call volume levels.
Outbound Services: Reaching out to existing customers and prospecting for new business are central professional functions, so effective call center phone systems facilitate seamless client care. Outbound systems are used to manage various operations, including:
Lead Generation and Qualification
Research
Sales and Marketing
Appoint Setting and Management
Warranty Sales
Overcoming call center challenges often requires customization, but capable solutions commonly share the following hallmarks. Workable call center phone systems are:
Affordable: Call center managers must balance capital costs, so value is paramount when sourcing phone systems. Efficient call center phone systems actually reduce staffing costs, by maximizing output from each team of agents. But the initial investment in a phone system should reflect realistic returns, keeping organizations on the cutting edge, without breaking communications budgets.
Accountable: Accurate reports and easy to interpret metrics enable call center managers to track performance and enhance operational efficiency. Access to valuable feedback, like trends in call timing and specific information about individual agents should be built-in to systems, furnishing vital real-time monitoring and measurement. Effective systems track call time, number of callers put on hold, percentage of transferred calls and first call resolution. EvolveIP, for example, recently identified a few top metrics for evaluating call center success, which centered on the quality of each caller's experience and the speed at which callers' concerns were typically resolved.
Comprehensive: In the end, positive customer outcomes are the bottom line for call centers. In fact, many companies use far-reaching Customer Relationship Management (CRM) technology to promote universal service mandates and meet organizational goals throughout the life cycle of each client. Adequate call center phone systems are an integral part of any comprehensive sales, marketing and service strategy, using features like scheduled callbacks and predictive dialers to enhance overall customer satisfaction.
Evolving Call Center Concerns
Increasing competition and an ever-expanding suite of available communication channels are changing the way call centers operate. Today's agents respond to overtures made through live chat, social media channels and instant messages, as well as contact by way of traditional inbound and outbound telephone calls. Effective call center systems must account for the evolving demands facing phone agents and their employers, devising workable, forward-thinking solutions for centers of all sizes.
Customized contact center solutions serve various types of phone facilities, so it is important to measure objectives and compare systems before making commitments. Three major considerations influence call center planning and execution:
Performance
Staffing
Design
With an eye toward these central costs and expectations, call center managers draw from an increasingly diverse set of phone system tools, addressing evolving consumer preferences and call center best practices. The most successful partners meet client needs head-on, furnishing custom call center phone systems on pace with the transforming industry.
Nextiva, for instance, recently received recognition as a worthy business call center option. The service uses Voice over Internet Protocol (VoIP) technology, a cloud-based approach that mitigates added equipment and software expenses. Its ease of use ranked highest among stand-out features, including user-ready phones and equipment, as well as customization and automatization – without a steep learning curve.
In addition to incorporating personalized functions that help call center operations flow more efficiently, Nextiva has proven a reliable phone system partner. The system's downtime is infinitesimal, quickly dispelling concerns about the reliability of VoIP technology, when compared to traditional analog phone system performance.
The most successful phone systems furnish call center programs leading to greater efficiency and reduced costs. Nextiva, and others, have found ways to reinforce consumer connections, helping facilities of all sizes manage inbound and outbound contact – without adding CRM costs. From appointment setting and market research, to warranty follow-up and lead generation, communications professionals are maximizing call center effectiveness with phone systems poised for the future.