Phone Systems for Schools and Universities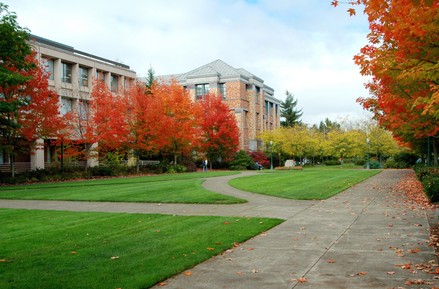 Regardless of the size or academic level of an institution, effective communication is central to its success advancing education. After all, exchanging information is the means by which students prosper. Schools, universities, community colleges and technical programs all rely on seamless sharing, to further understanding and promote scholastic success. Fortunately, numerous platforms facilitate learning; from virtual instruction, to mobile communication, using an ever-expanding array of devices. However, even as Cloud services and other alternatives continue to shape the changing face of information technology; voice connections, made by phone, are still essential to every day communication.
School phones link parents, administrative staff, students, and faculty. And with so many connectivity options available, modern systems accommodate mobile callers and keep faculty in-tune across far-flung campuses and between remote locations. It is a tall order, but technology helps institutions of all sizes succeed. The best school phones systems are equipped with specialized functions, expressly designed to enhance performance in educational settings and deliver results for public schools, private colleges, and other learning institutions.
Communication Technology Empowers Learning
State of the art communications systems address the needs of an increasingly mobile population of students and their educational partners. There is more than one way to get the job done, however, so schools optimizing phone capabilities must first answer a few questions. Since each facility has a unique set of needs, professional installers can help weigh the costs and benefits of each custom approach. In order to make the most of modern phone system technology, educational administrators work with reputable phone providers, taking-on the following concerns:
Value: Educators are typically pressed for resources, so maximizing return on investment is particularly important in educational settings. Public primary and secondary schools, for example, are not run for profit, so municipal school budgets are responsible for funding phone purchases. Matching affordable solutions to the particular needs of each school requires a close look at the total cost of ownership, including capital investment for phones and ongoing maintenance expenses. In some cases, leasing furnishes a cost-effective alternative to an outright purchase, leaving repairs and upkeep to phone system leasing specialists.
Scalability: The needs of educators continually evolve, so ideal phone system solutions respond with versatility. The student population is itself transient, so reacting quickly to the needs of a revolving student body is an essential function. Rising to the demands of expanding campuses is also important, so new phone system installations should have room to grow.
Reliability: Learning institutions serve diverse populations, operating around the clock. There is simply no down time for educators, so phone systems must function 24/7, enabling students to connect at all hours.
Ease of Management: With so many features on board, complex phone systems can quickly become cumbersome to operate. Today's best systems, on the other hand, offer intuitive management, supported by comprehensive training. To meet the demands of busy schools systems, for example, modern phone set-ups can be managed remotely, enabling administrators to change messages and retrieve data from afar. For a phone system to be most effective in a school environment, users should be able to instruct incoming staff and students to use needed functions, without additional investment in outside training.
Messaging and Other Phone Functions
Educators serve students of all ages, so communicating with parents is an important function of grade school, middle school, and high school phone systems. Advanced features, like a call tree or phone tree, help administrators connect with parents, furnishing timely messages about school events and policies. And since automated messaging takes-over for live operators, installing the right phone system can actually help schools on tight budgets save money.
Phone Tree: This type of automated information system keeps callers up to date, sharing important school messages. Dialers work through prompts using their phone keypads or by speaking short phrases, steering them directly to messages of interest. The technology replaces or supplements non-automated calling trees used by schools, which rely on individuals to spread messages by phoning other members of their tree.
Attendance Notifications: Automated systems enhance compliance and accountability in primary and secondary schools, notifying parents when children do not attend class. Automated attendance calls save time for busy school administrators, and make it harder for problem students to beat the system.
Voice Message Translation: Multilingual translation serves an increasingly diverse student body, ensuring language barriers do not thwart access to important school messages.
Emergency Alerts: Weather and other threats impacting children arise quickly, so systems capable of automated notifications are the most efficient way to inform parents during times of crises.
Reminders: Programmable systems take the place of courtesy callers and school office staff, furnishing reminders about important deadlines, events, and schedule changes.
These are just a few of the functions adding value to modern phone systems. A major advantage of VoIP and other progressive technology is customization, so your school's needs come first, when designing a phone system installation.
Solutions for Educators
Major service providers are up to date using the latest communication advances to maximize return on investment for colleges, universities and all manner of schools. Consulting with industry leaders like Shortel uncovers affordable options for enhancing campus communications. The company's Onsite IP Telephony packages prove cost-effective in wide-ranging education applications. Equipped with Unified Integration, the powerful resource makes the most of the latest capabilities. It is scalable, appealing to younger programs, but also boasts features appropriate for seasoned institutions. Shoretel's Connect Cloud presents another option to explore with phone system representatives.
School phones play many roles. An adequate system, of course, has no trouble managing the flow of calls from parents and school staffers, but advanced features expand the possibilities for forward-thinking academic programs. Through messaging and other automated functions, a well-executed phone system increases efficiency and aptly supports the important role of education. Each system is priced according to size, hardware and the particular requirements of each school. Established vendors are equipped to highlight cutting edge functions and recommend cost-effective solutions.