Phone Systems for Startups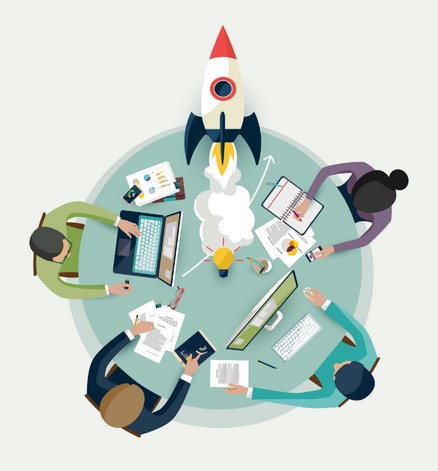 Business communication takes many forms, linking clients, partners, customers, and inter-office associates. In fact, the growth of mobile communications and other technology has brought about noticeable changes in the way society interacts, as people experiment with new forms of personal and professional communications. Networking and collaboration, for example, have shifted from personal contact and phone calls, to social media and video conferencing. And text messages and emails have become standard ways to interact – even in professional environments. In order to keep pace with the evolving face of modern communications, businesses are embracing these new possibilities – but forward-looking entrepreneurs have not forgotten the value of telephones.
Despite communication alternatives, office phone systems still fill vital roles for businesses of all sizes. Startups and emerging companies, in particular, rely on well-executed phone systems to make contact with customers and forge working relationships with other industry professionals. Whether your startup includes a brick and mortar office, with an established team of in-house employees, or a mobile staff on-the-go, experienced providers are prepared to make phone system recommendations.
Startup Find Phone System Value
Successful entrepreneurs weigh the costs and benefits of capital spending, directing resources where they'll do the most good. In the end, the bottom line is what matters, so startups are looking for capable telecom solutions, without breaking the bank. Business visionaries recognize the power of a well-conceived, affordable phone system, so the best phone vendors work with entrepreneurs to make their foresight pay off. Winning startups use phone systems to create these competitive advantages:
Distinguish Your Brand: Each accomplishment is an uphill climb for startups, which don't have a long track record to lean on. As a result, offering fresh, new ideas is the only for new brands to stand out. Coordinated communications is one way to establish your distinctive brand, putting innovation on display. Internet phones, mobile communications solutions and efficient 24-hour telephone coverage ensure each caller receives a personal touch.
Make the Right Impression: There is no faster way to lose the attention of customers than failing to provide service. Phones furnish crucial links between you and your clients, so falling short can mean the difference between prosperity and outright failure. Top systems include features like call forwarding and messaging services, reliable mobile connections, VoIP capabilities matched to your needs, and cutting edge equipment.
Build Relationships: Increasingly competitive consumer markets call for a direct approach with each customer. Building relationships is essential, so phone systems are designed to provide the follow-up and customer care unique to each startup vertical. Automated features, like courtesy calling and reminders are sometimes appropriate, for example, while other ventures find value in features like fully integrated communications.
With so many telecom choices available, startups are able to refine phone systems to target their unique needs. Answering a few important questions about your business creates a starting point, from which to build a custom phone system solution. Consider these relevant details as you compare and contrast features and functionality.
Call Volume: If your business doesn't create heavy call volume, it doesn't make sense to install an over sized system equipped with unneeded services. It could be a waste of funds. On the other hand, high call volume businesses might benefit from several incoming lines, to manage several extensions and accommodate inbound calls. Correctly sizing your phone system creates efficiency and ensures calls (and customers) are not lost along the way.
Call Location: Not every business maintains a brick and mortar facility or employs a full-time telephone operator. Startups built on mobile communications have special needs, so the best systems make on-the-go connections a priority, rather than focusing on a particular location.
Service Goals and Customer Base: Attracting and retaining customers in job one for startups, so phone systems should account for the types of callers and their unique needs. Urgent issues, for instance, cannot be put on hold while your communications system catches up to real time. Instead, seamless forwarding and messaging should make each client feel his/her needs are at the top of your list. Your customer base should feel the impact of the custom phone features you select. For instance, not every business benefits from Interactive Voice Response (IVR) system. However, call-intensive ventures (doctor's offices, sales firms, technical support entities) cannot streamline call management without IVR capabilities.
Budget: In order to make the most of your capital phone purchase, a system budget should handle today's needs, while also leaving some room to expand as your startup takes off. Realistic budgeting helps phone system providers measure the cost and benefits of various approaches, ensuring the highest return on your investment. For the best results, plan for expansion with a scalable system that provides cutting-edge functionality alongside forward-looking infrastructure.
VoIP for Startups
One of the primary distinctions between service options is the way phone systems transfer data. VoIP, or Internet Telephony enables callers to use the Internet to make voice connections. For startups, the cutting edge technology presents an opportunity to utilize a growing service, which dominates new business installations. VoIP offers the following advantages:
Scalable Without Major Infrastructure Upgrades: Since VoIP uses established computer cabling, there is no extra installation required. Additionally, expanding the number of phone lines and computer/printer stations can be done economically, as long as the system is configured for multiple devices.
Metric Importation: With a VoIP solution, startups see where their calls are coming from. Coupled with a database, these tools help target customers and achieve business growth objectives.
Economical Performance: VoIP solutions typically cost 30% – 70% less connecting international long distance calls than tradition phone systems. The cost of installing a Voice over IP system is easily recovered in long distance savings.
Versatile Phones and Equipment: Because the VoIP signal is digital, VoIP phones can be deployed to cover multiple functions. For example, a phone line that once needed only two extensions can quickly be expanded to accommodate five or more, by switching-out telephone equipment and making minor software management adjustments.
Virtual Phones for Startups
In some cases, virtual phone solutions are also a good option for startups. Typically, a virtual phone solution is internet-based, forwarding incoming calls to a specific location, such as an office or cell phone. For a small startup, with less than six individuals, this is a reasonable approach. Other advantages include:
IVR settings enabling customers to connect to specific "extensions", without the need for a live operator.
Faxes are included, using the same number as your listed business number. Typically, a fax sent to your virtual call system will generate an email, sent to a designated user.
Voicemails generate emails making them easier to handle and prioritize.
Toll free numbers are available for your company to purchase, furnishing another direct avenue for clients to contact your business.
Various service plans elevate the possibilities for startups, including solutions from these and other industry leaders:
Nextiva: Like other VoIP companies, Nextiva prides its self on customer service and flexibility. One unique service offered by Nextiva is the ability to use call center services. In other words, clients of all sizes can set up a plan where Nextiva will provide ad hoc call center services. Nextiva offers this election of VoIP services to help startups:
Hardware sales and support
Cloud solutions
Personalized plans
Custom business support for your startup vertical
RingCentral: This service is great for mobile startups, such as contractors and independent sales agents. RingCentral provides the following services:
Call routing to the phone you designate
IVR
Multi-user video/audio conferencing
Microsoft product integration
Vonage: There are a few upsides to this "Out of the Box" solution, including these advantages:
Easy to install and can be moved if needed.
Devices will work anywhere there is an internet connection.
Inexpensive long distance rates.
Good customer service.
Small-scale services perfect for one or two people sharing business phones, when phone usage is limited.
Advanced functions like call queuing, transfers and holds – as well as other business class services.
With so much commercial pressure placed on consumers, it is more important than ever to make genuine connections with clients and customers. Startups especially must make the most of each contact, in order to gain a competitive foothold. And while each business has unique communications needs, a well-executed phone system is square one for successful startups.