How to Find a Dental Office Phone System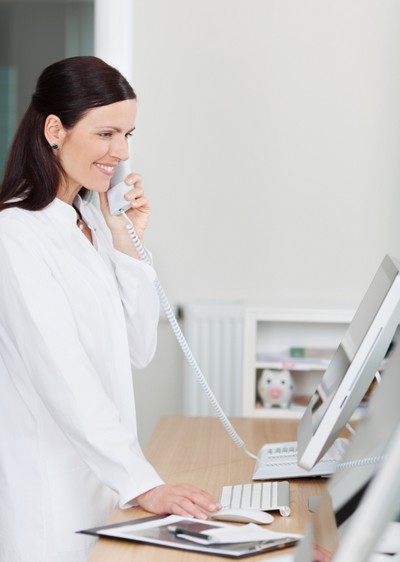 Effective office phone systems play important roles for busy medical practitioners, who count on seamless service to support continuity of care and stimulate patient confidence. Maintaining a high level of contact, through inbound communications and outbound calling is essential for keeping patients informed about their health status. And efficient phone systems also keep medical offices flowing smoothly, increasing internal productivity and giving administrative staffers the tools needed to succeed.
Doctors, dentists and other health care providers have distinct office management needs, so the most successful phone systems address their unique concerns, providing custom solutions for common health industry communications challenges. By identifying key office functions and installing the right phone system capabilities, dentists and doctors maximize resources and lower the overall cost of doing business.
Dentists, in particular, benefit from the advanced features found with modern, tech-forward phone systems, aiding scheduling, patient follow-up, and new client acquisition. Fortunately, modern possibilities cover the needs of small, medium and large offices, including sole practitioners and multi-site dentistry providers.
Communication Advances for Health Care Settings
Like other shifts in business operations, changing communication systems can be challenging, at times. Upgrades are for the best; however, so trying transitions ultimately result in better functionality, greater efficiency, expanded capabilities and access to features specifically designed for health care settings. When the status quo does not keep pace with office needs, dentists face three alternatives for improving performance.
New Installation
Upgrade
Expand
The best course of action depends upon particular needs and the communications capabilities found at a given office. Working with equipment dealers and experienced phone system providers, dentists and their office administrators are able to determine which approach will provide the greatest returns. While new installations may be the most costly option, modern phone systems quickly pay their way with greater efficiency and advanced functions. In fact, well-conceived phone systems are actually capable of streamlining office flow and trimming the administrative costs of running a practice.
Installing a state of the art telephone system has several advantages for a dentist's office in need of improved communications. For starters, modern systems are fully customizable, so the most helpful functions are easily built-in to a new system, targeting specific office tasks.
Connectivity options have changed, so available systems now use standard, traditional phone lines, or more commonly, rely on Internet connections to facilitate voice services. Weighing the advantages of each system and comparing the costs associated with each approach is best achieved with the help of reputable dealers and phone system providers, capable of highlighting various modern methods.
Voice over Internet Protocol (VoIP): VoIP, or simply IP systems were once most appropriate for larger operations, but today serve dentistry practices of all sizes. Increased reliability across VoIP connections and the relatively low cost of IP telephony have made it the go-to standard for commercial phone systems. In addition to VoIP technology, dentist's offices are well served by these alternatives:
Key System Unit (KSU): This familiar phone set-up relies on a series of buttons to transfer calls between internal extensions and to select outside lines for making external voice connections. This tried and true approach is best applied at small and medium-sized offices employing 75 or fewer users. For the smallest of practices, with less than 10 regular phone users, traditional installations, without KSU functions, may be adequate. One advantage for smaller practices is the portability of such systems, which are not wired-in to particular locations, like KSU systems are.
PBX (Private Branch Exchange): Large businesses benefit from dedicated resources, so commercial operations with more than 75 employees typically rely on PBX systems to manage communications. PBX is like a private switchboard, dedicated to the needs of a particular organization. Housed on location, or in some cases hosted virtually, the systems are appropriate for managing high volumes and using advanced features.
Patient Care Starts with Voice Connections
Compared to technology available only a few years ago, today's phone systems carry forward-looking features capable of changing the way a dentist's office does business. The key to making the most of your communications budget is dialing-in precisely the functions your office needs. As you prepare to transition from your old system, it pays to network with fellow professionals, sharing telecommunications experiences. With luck, you'll find some colleagues ahead of the phone technology curve, furnishing valuable feedback that could help you avoid costly missteps.
As you evaluate phone system possibilities, consider how many users are likely to be on board at the time of the installation, as well as the potential for growth in coming years. A phone system should not only accommodate today's users, but allow room for future expansion. To lay the groundwork for ongoing success, work with a reputable system installer to identify not only the number of required extensions, but the number of trunk lines needed to keep pace with office demand. Once the basics are in-place, consider your needs in the following areas:
Multi-Line Systems: Only the smallest practices get by with a single phone line. More commonly, advanced systems include multi-line connectivity, which allows for growth and seamlessly handles busy call volume. Call waiting further enhances multi-line systems, ensuring no caller waits on hold, and projecting a patient-oriented image.
Announcement/Office Directory: Facilities with more than one dentist on staff require efficient mechanisms for transferring calls. Automated announcements ensure no caller goes unattended, and staff directories facilitate efficient connections – without the assistance of a paid operator on duty.
Intuitive Management: Cumbersome systems waste man-hours, as staffers spend time administering phone functions. Intuitive management mechanisms and remote capabilities reduce the amount of time spent working on the basics, empowering users to instead make the most of advanced phone system functions.
After Hours Automated Attendant: Health care providers are sought around the clock, so a comprehensive outgoing message is essential for complete patient care. Dentists, for instance, use automation to advise callers about emergency care and steer them toward helpful resources – at all times of the day and night.
Intercom and Teleconferencing: Although dentists are not likely to utilize conferencing as frequently as business offices do, internal intercom systems may be helpful for coordinating office activities. Paging staff to exam rooms and alerting doctors about patient status are key intercom functions, enabling front desk staff to remain present for customer needs.
These are only a few of the advanced features available for customizing dentist's office phone systems. While modern systems typically come with basic functions like voicemail, call forwarding and the ability to record calls, custom options enhance phone functions and make it easier than ever before to keep pace with the demands of a busy dental practice.
With the help of phone system specialists, dentists and other health care providers are using state of the art equipment and advanced voice connection capabilities to manage office communications. Your first steps toward improved performance include a look at equipment and services, as well as consultation with reliable, forward-thinking phone system companies.