How to Evaluate Hotel and Motel Phone Systems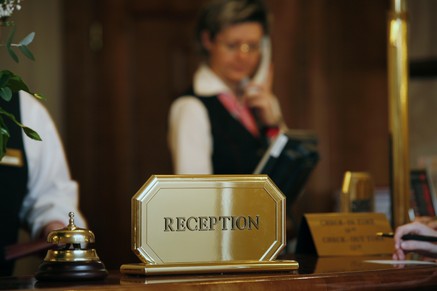 Trouble-free voice connections are essential to every aspect of business operations. From customer service and care, to sales follow-up and even cold calling, phones are at the center of a comprehensive communications package. Hotels and motels, for instance, rely on phone systems to direct internal traffic between employees, as well as to manage incoming calls for an ever-changing group of guests.
The size of a hotel or motel property, in part, dictates the type of system most effective for meeting guest and management expectations. Comparing phone communication options also includes a close look at call volume and other needs unique to each case. Experienced dealers and phone system providers are well-equipped to conceive custom solutions, most appropriate for each hotel/motel property.
Comparing Hospitality Phone Systems
Hotel and motel operators use phones the same way other businesses do, so hospitality systems are equipped with features similar to those found in offices and other commercial settings. The unique needs of hospitality outlets, however, call for special added functions, which are built-in to custom hotel and motel phone system installations.
In order to match phone system capabilities with the particular demands of each facility, hospitality phone providers work to prioritize needed functions and maximize return on investment. Some important things to consider when installing a new phone system include these hotel/motel communication concerns:
Property Size: Hospitality outlets have different needs, depending upon the number of guest rooms available for reservation. A properly sized phone system works efficiently, without leaving money on the table for an overblown installation. On the other hand, ideal systems allow room for growth or at the very least, reserve capacity beyond day to day needs. Regardless of the size of a facility, there are services available, precisely directed toward the needs of small, mid-size, and large hotel, motel and resort properties. A traditional self-hosted PBX, for instance, may be the best solution for a 300 room high-rise hotel, while a simple 4-line office system may be adequate for a small town motel.
Call Volume: Closely linked to property size, the number of calls handled daily is another established metric for sizing hotel phone systems. When vetting the needs of larger properties, for instance, it is important to account for call volume beyond the front desk. Sales, catering, and other departments must also be recognized when tabulating total call volume.
Number of Extensions: The nature of the hospitality business typically calls for a large number of extensions. In addition to linking guest rooms, hotel PBX systems manage calls across a property's entire front office, as well as added outlets like housekeeping, health and fitness facilities and on premise dining establishments. Extensions are also required for credit card processing and non-voice functions, so these should not be overlooked when assessing overall phone system needs. The number of required extensions is ultimately used to calculate how many outside lines are brought in to a particular property, sufficient to cover daily usage.
Buy or Lease: Flexible financing alternatives help hospitality providers stay on the cutting edge, furnishing high levels of customer care, while maximizing returns on phone system investments. In some cases, leasing is a more cost effective approach than buying is, enabling hotels and motels to have the best equipment and features, without the high initial capital investment of buying a state of the art system outright.
Type of Connection: Like small-scale switchboards, traditional wired hotel PBX system function in much the same way a phone company routes calls. These tried and true phone systems lead to crystal clear connections and seldom results in lost calls. A newer form of communications technology enables calls to be managed using Internet connections. Voice over Internet Protocol (VoIP) is an economical alternative to wired PBX systems, because it uses existing infrastructure to handle call volume. In its early form, the system was less reliable than traditional PBX, but technology has improved, limiting the number of lost calls and making the systems more consistent for widespread use.
IP phone systems can be hosted internally or remotely, giving hotel/motel operators further options for customization. Voiceware, for example, is one tech-heavy phone system, currently used in hotels and motels. The system/software caters to hospitality providers, supporting reliable IP PBX phone systems for mid-scale properties.
Feature-Rich Phone Systems for Resorts, Hotels and Motels
Modern phone systems are highly customizable, so industry-specific features can be added, to accommodate hotel/motel businesses. Hospitality providers rely on these and other phone system qualities to provide comprehensive guest services:
Wake-Up Alarms: Truly unique to the lodging industry, automated functions are built-in to hospitality phone systems, enable reliable wake-up calls to guest rooms.
Outbound Calling from Guest Rooms: The growing number of mobile communication options has changed the playing field for hotel guests. Though most callers now use mobile devices to connect from guest rooms, rather than the house phone, it is still an essential guest room feature. Forward-thinking hospitality providers cater to technology, so in-room phones are now equipped with charging stations for guest devices. Despite limited use for external or long-distance calling (which was once a profit center for hotels); guest room phones are still the primary link to hotel staff and services.
Business Functions: Hotels operate on several levels, so comprehensive hospitality phone systems include standard business features. Voicemail, call forwarding, recorded messages and call transfers between extensions are expected functions of any motel or hotel system.
Guest Information Display: To facilitate personalized guest services, phones are outfitted with displays automatically revealing guest information to those answering extensions. Room service callers, for instance, are immediately recognized by name and room number as order-takers answer calls.
Portability and Connectivity: Effective systems enable hotel staff to communicate efficiently, regardless of where they are on the property. Well placed extensions, Wi-Fi phones, and portable handsets facilitate connections and quickly put guests and clients InTouch with those best able to help them.
Intra-Room Calling: Groups lodging together can call one-another from room to room, and when appropriate, phone systems include group messaging functions, to coordinate business and personal events guests share.
These are just a few of the capabilities enabling hospitality providers to furnish guest services and manage internal phone volume. Comprehensive systems, like Cisco's Unified Hotel Communications solution, address needs specific to hospitality businesses. The system accommodates guest communications, as well as staff connections, using a single efficient platform. Benefits include VoIP voice communications, lower up-front costs, secure wireless service, and scalability for future growth.
Forward thinking hospitality providers use technology to their advantage. By installing state of the art phone systems, these hotel and motel operators empower staff to provide the highest possible level of customer service. Today's custom features include phone functionality expressly engineered for the hospitality industry, so consulting with top telecommunications companies is the first step toward productive solutions.
To get the best results, it's important to ask multiple dealers these questions so you can compare their answers and offers. Use our free pricing tool to compare prices on a hotel telephone system.