The Best Option For a Pizza Delivery Phone System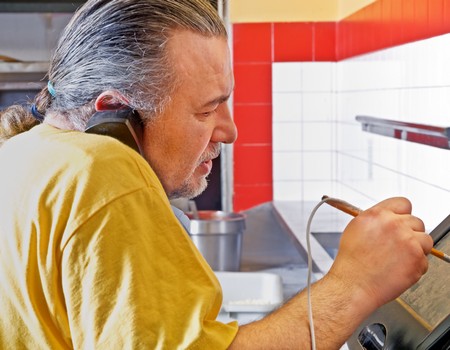 Commercial ventures rely on effective communications. Whether selling goods or services, businesses need reliable ways to promote themselves and connect with consumers. And though people now communicate through various electronic channels, voice connections are still an important part of modern commerce. This is especially true for certain commercial sectors, which are heavily vested in the success of their phone systems. Takeout restaurants and pizza delivery businesses, for instance, need trouble-free inbound connectivity, as well as the ability to call customers, process electronic payments, coordinate deliveries and connect with store managers using mobile devices.
Technology presents various alternatives for pizza restaurants seeking state of the art communications capabilities. Installing an appropriate set-up can actually create a competitive advantage, accommodating high volume and furnishing seamless customer service. Whether you are expanding operations or simply replacing an outdated system, a fresh installation opens-up new pizza delivery possibilities.
Enhancing Image and Performance
Restaurants thrive by taking good care of their guests and earning loyal customers. In person, greeters, wait staff and other personnel have opportunities to make customer connections face to face. But for restaurateurs operating true takeout and pizza delivery services, most contact occurs during phone calls. As a public relations and marketing tool, an effective pizza delivery phone system helps shape the image and reputation of your restaurant
There are several things to consider when contemplating phone system upgrades. Size, peak volume, number of order-takers, and other particulars about an operation are used to calculate the needs of each pizza delivery outlet. Using this and other information about your business, phone system providers are able to recommend custom solutions, addressing concerns specific to your delivery venture. Top phone system vendors offer the following call management solutions, directly aimed at busy pizza restaurants of all sizes.
Voice over IP (VoIP): Staying current with phone technology has several advantages, so progressive pizza businesses look to improve service, using tech-driven solutions. Voice over Internet Protocol is cementing its place as the preferred platform for pizza delivery companies. The systems use Internet connections to manage calls, rather than traditional phone lines, so a strong signal is required for VoIP to function properly. Like other tech-heavy solutions, VoIP has undergone growing pains, striving for 100% reliability. Today's systems rival wired lines for consistency, so pizza sellers have gained confidence in the versatile approach. Because it uses existing infrastructure, VoIP is the most cost-effective alternative for many pizza delivery restaurants, eliminating the cost of expensive installations and equipment.
Key System Units (KSU): Key systems require permanent installation, which is performed by vendors also responsible for maintaining the systems, through service contracts. Designed for 5-40 extensions, KSU connections are extremely reliable and seldom lose calls.
KSU-less Systems: Pizza restaurants needing fewer than 5 extensions often rely on standard connections, without KSU phones. The flexible systems are easily scaled, moved or modified to address evolving business needs. Additional phone lines may be required to accommodate credit card processing or fax transmissions. Small-scale delivery operations are well-served by this basic, cost-effective approach, but a more sophisticated system is a better choice for higher volume pizza vendors.
Remote Call Centers: Local, single-outlet pizza shops don't need call center capabilities, but studies show major national brands benefit from dedicated call facilities. Pizza delivery businesses comprised of ten or more branches streamline daily operations by centralizing order-taking duties to remote call centers. Removing this phase of the pizza delivery process from individual store locations enables individual outlets to concentrate on quality control, delivery times, and other essential customer service functions. At the same time, call center managers are able to efficiently monitor order-takers, ensuring high levels of customer satisfaction.
Custom Functions Create Pizza Delivery Advantages
Creating a welcoming first impression is critical for ongoing success, especially for phone-based businesses like pizza delivery restaurants. Installing an adequate call and message management system, outfitted with advanced features, increases customer satisfaction and ensures repeat business. Whether your need is for a straightforward single-line system, or a more sophisticated VoIP platform, installing the following functions will help your pizza delivery businesses provide the highest possible level of service and satisfaction.
Call Waiting: Delivery restaurants with a limited number of incoming lines rely on call waiting to manage incoming flow. Placing callers on hold is less than ideal in the competitive pizza delivery business, but when the expense of additional lines can't be justified, call-waiting represents an economical alternative.
Caller Identification: Connecting with customers is an increasingly personal experience, as businesses compete for consumers' loyalty. Caller information empowers order takers to reinforce public relations, addressing customers by name and confirming delivery details. When linked to POS systems, the information is portable, creating continuity for callers, who are handled with a personal touch throughout the order and delivery process.
Recorded Messages: Even when live operators are not on duty to answer calls, it is important to put-forth a positive image for callers. In addition to sharing store hours, recorded announcements can also serve to alert customers about restaurant specials and upcoming events.
Music on Hold: Short wait times are essential for maintaining a successful pizza delivery business. After all, placing a would-be customer on hold risks being abandoned, in favor of an establishment capable of providing immediate assistance. Music on hold helps soften the blow, creating goodwill and buying you valuable time servicing orders.
Alternative Connections: Modern consumers demand convenience, so your pizza delivery business may benefit from multiple streams of contact, including text messaging and online ordering. Mobile ordering has also taken-off, led by advances like a Domino's app enabling users to order pizza using voice. Integrated systems, linking phones with point of sale systems ensures all delivery orders are channeled to the right parties.
Pizza delivery businesses do a large share of their business over the telephone. With so much at stake, an effective phone system can make the difference between profitability and outright failure. To make certain your pizza delivery restaurant meets customer expectations; consult with a reputable phone system vendor for up-to-date recommendations. Expanding, updating, or installing a new system may present possibilities your current phone system does not, so it pays to compare and contrast today's versatile options.