How to Compare Phone Systems for Hospitals and Health Care Providers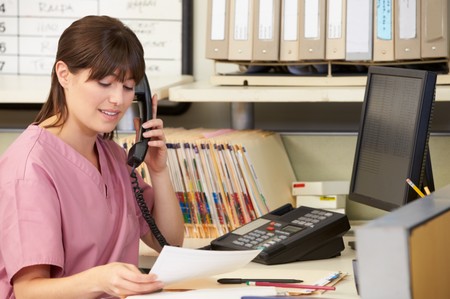 Although recent years have seen revolutionary changes in the way people communicate, phone systems remain at the heart of human interaction. Portable communication, for example, has obviously grown leaps and bounds, pushing the potential found in the mobile telecom industry. Similar developments have also touched commercial systems, enhancing communication possibilities for businesses of all sizes.
Like other commercial ventures, hospitals, clinics and doctor's offices rely on consistent phone communications systems. Standard office features are helpful, but medical providers also have unique concerns, which require custom telecommunications solutions. Hospitals, in particular, have strenuous communications standards, so phone systems must measure-up to the needs of fast-paced medical facilities. Fortunately, with the help of technology, modern medical office phone systems are fully customizable, enabling doctors and staffers to fine tune phone connections to the needs of each practice.
Making the Most of Communication Options
Staying in close contact with clients and patients is accomplished using various resources, which continue to grow in number. Social media, live chat, texting, and other forms of contact are important links to friends, family and associates, but for doctors, nurses and hospital staff, phone connections remain an integral part of daily communication.
Before settling on particular features, health care facilities are encouraged to consult with phone system professionals, gaining further understanding about this rapidly changing industry. At a minimum, your provider should have solutions for these common medical phone system concerns.
Training: Transitions are rocky, at times, so moving to a new phone system calls for comprehensive training. Health care settings, in particular, cannot afford down time, so a rapid learning curve is essential for keeping operations running at full capacity. The cost of training should be worked in to each telecom deal, with service providers prepared to help absorb the cost of bringing staffers up to speed on new hardware and processes.
Ongoing Support Service: Medical outlets are particularly sensitive to reliability issues, so phone system service support within the industry must be highly responsive and effectual resolving problems. Reputable providers cover their clients' needs 24/7, so phone consultation and service calls are part of a comprehensive support package.
Accountability: The best hospital phone systems allow administrators to track performance. Various feedback metrics follow call time, agent response efficiency, transferred calls, hang-ups and other related activities, highlighting areas in need of improvement. Data collection and reporting are used to fine-tune performance, but the information can also underscore major shortcomings. It is up to your phone system partner to identify negative patterns and recommend appropriate telecom solutions.
Answering the following "big picture" questions provides a starting point for comparing phone systems. With the help of an experienced dealer, you can use this preliminary information to contrast performance specs across systems, settling on the best brand for your voice communication needs.
How big?: Properly-sized phone systems meet the needs of health care facilities, simultaneously keeping costs down and maximizing efficiency. This is a tall order for any organization, but nearly impossible to accomplish using undersized systems. Reputable dealers and installers are capable of calculating optimum scenarios, providing follow-up pricing details about the types of systems best-suited to each hospital or health-care setting. In addition to determining how many extensions are needed, early groundwork also uncovers the ideal number of incoming "trunk" lines.
Landlines or Internet System?: Those without recent telecom experience may be surprised to learn of a communication alternative using the Internet to manage calls, rather than traditional land-based phone lines. Initially plagued by connectivity inconsistencies, the technology has come into its own, now furnishing workable solutions for medical offices of all sizes. IP phones, or Voice over Internet Protocol (VoIP) systems, as they are also known, can be hosted onsite, or virtually, using cloud-based alternatives. The technology is preferred by users for its ease of use and reduced costs, when compared to other phone systems. It can often be added to existing infrastructure, so VoIP customers are up and running quickly – prompting companies like Toshiba to promise one-stop shopping for IP telephony needs.
Which system will give me the best return on investment?: Overall efficiency and the total cost of operation are good measures of phone service success, but the most important victories are not always measured in dollars and cents. Cost-effective phone solutions are those providing comprehensive solutions for each medical provider's most pressing concerns. Starting with callers' first contact, an effective phone system sets the stage for seamless care and enables staffers to perform at peak levels.
Custom Phone Functions Add Value
Phone systems used in health care settings are most successful when outfitted with special features. From advanced messaging and call-forwarding functions to automated appointment reminders, effective medical practices rely on custom phone functions to provide timely care and stay in close communication with patients. Calls represent the first contact made with a hospital, clinic, or doctor's office, so these service-oriented phone add-ons instill confidence and ensure each "customer" is satisfied:
One-click Call Routing
Automated Attendant
Intuitive Prompts
Music on Hold
Hours and Location Announcements
As much as phone system decision making is about patients, the best approaches also account for the needs of phone agents and other users. In fact, tech-forward phones empower staff to excel, giving employees the tools they need to satisfy organizational goals, in the most efficient possible ways.
Automatic Appointment Reminders
Medical Surveys
Automated Call Scheduling
Hands Free Dialing
Full Facility Integration
Hospitals, clinics, medical practices and other health care outlets rely on high-functioning phone systems to handle inbound traffic and stay connected with patients. Fortunately, dedicated functions help systems perform as expected, including technology specifically designed for medical applications. Whether you are in the market for a simple, four-line set-up or advanced virtual VoIP services, phone dealers are ready to measure the needs of your facility and recommend appropriate solutions, within your budget.