How to Maximize Small Office Phone System Benefits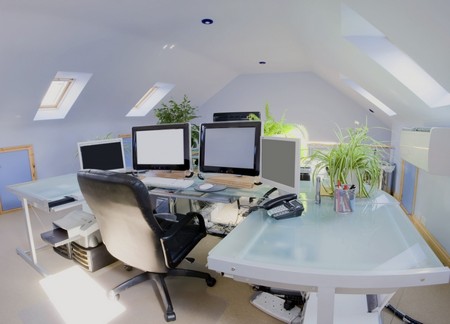 Small companies, partnerships and sole proprietorships provide a personal touch for clients and customers, giving focused attention to the individual needs of each associate. In competitive business environments, attending to each customer's most important concerns helps build lasting relationships. Without effective communication, however, customer care quickly falters, creating liabilities for small businesses. Voice connections, in particular, serve as initial points of contact for consumers and professional associates eager to do business with your organization. It is essential for you to make the most of these opportunities to connect with customers, by installing a capable phone system, designed for your business vertical.
Regardless of the size of an office, tech-forward communications systems meet the challenges unique to each operation. Small offices, for instance, may not need dozens of handsets and extensions, but must still put forth the highest possible level of customer service. Advanced phone systems help them meet client expectations, providing seamless connections for outside callers and internal collaborators. The most successful installations include state of the art hardware and programs, so industry professionals are a go-to resource for offices needing phone system service.
Advanced Features Set Office Systems Apart
Modern phone systems serve vital functions, beyond connecting individuals for conversation. The powerful office tools can now be equipped with advanced features unavailable only a few years ago. Systems professionals can share particular options suited for your small office needs, using information about your vertical to establish the best approach for your business venture. Some of the most in-demand features facilitate the following small office functions:
Caller ID
Internal Caller Information
Voicemail
Intercoms
Call Waiting
Conferencing Capabilities – With Onsite Collaborators and Outside Associates
Call Forwarding – Internally and to Remote Lines
These are only a few of the most desirable office functions – modern systems offer many more.
In addition to commercial capabilities aimed at for-profit enterprise, custom office phone systems serve schools, public sector facilities, and other organizations maintaining offices. In each case, efficiency and reliability are paramount, so proper sizing, equipment, and training are essential for long term success. Some important things to consider, and discuss with established phone system providers, include the following communications concerns:
Working Within Budgets: Phone pricing varies widely, depending upon features and hardware you select. Whether you are an entrepreneur or a public servant, however, value and return on investment are key considerations. In order to get the most bang for your buck, it makes sense to compare and contrast various system alternatives, from industry-leading phone system providers like Toshiba, Shoretel and Cisco.
Maximizing Functionality: One of the primary advantages of upgrading or replacing your current small office phone system is to make use of cutting edge capabilities. Using emerging technology, it may be possible to streamline the flow of office tasks and create accountable customer service, without higher spending. On major distinction, for example, is between complimentary phone system technologies currently in use. Plain old telephone systems, as they are sometimes called, rely on standard phone lines to transfer data, continuing the decades-long custom, which was once your only option. A modern alternative, however, uses the internet to transfer data between callers. IP Telephony furnishes a workable alternative for small offices, which benefit from some of the same advanced features previously available only to larger organizations.Known also as Voice over Internet Protocol (VoIP), or simply Internet Telephony, the forward-looking solution has become nearly as commonplace in office settings as standard, traditional phone systems. Using Internet connections to accommodate calls requires solid Internet signals, so early IP systems were vulnerable to connectivity issues. The best modern versions mimic plain old phone lines in terms of reliability, giving offices of all sizes a reason to investigate the versatile alternative.
Pairing with Leading Providers: Competent telecommunications partners bring a lot to the table. For starters, phone system vendors are well-versed on prevailing technology, prepared to recommend the solutions best suited to overcome each small business challenge. Turnkey phone companies have a stake in your success, so their experience accelerates your learning curve – both before and after office phone system purchases. Training and follow-up are essential, so preferred providers furnish seamless support.
Call Manager, from Toshiba, is one existing example of the integrated communications capabilities put-forth by leading industry innovators. Users control various functions from their desktop or notebook computers, centralizing control of essential small office tasks. The comprehensive platform integrates voice communications with telephony, PC capabilities and custom apps. For businesses in need of telephone system updates, the result is increased efficiency and better performance. These and other advanced systems empower staff to address voicemail, email, telephone calls, and certain web tasks from a single screen. Systems include functions like:
Park
Page
Do Not Disturb
Speed Dial
Countless Custom Configurations
Call managers enable staff to perform vital office duties as efficiently as possible. For example:
Manage Directories
Execute PBX Commands
Perform Supervisor Functions
Launch Web Pages
Run Programs
4 Line Systems Accommodate Small Offices
There are a number of approaches to effective communications – each aimed at desired outcomes. Small offices, for instance, benefit from flexible 4 line telephone systems. The adaptable systems accommodate a decent number of extensions, while maintaining low/line costs.
Ease of use and scalability enhance versatility, enabling small offices to adjust 4-line systems according to staff levels and to easily train incoming personnel on advanced functions. Extra capacity can be built-in during installation, for instance, preparing your small office for future growth.
Whether a 4 line system answers your communications needs, or another alternative is a better fit, modern phone systems have the power to change the way your office functions. From increased efficiency, to better opportunity for collaboration, installing new phones gives small offices access to the advanced features once reserved for larger business settings. Consult with phone system experts, to start enjoying the benefits of modern phone technology,
Are you ready to purchase a phone system for small office? Try our pricing tool and choose the price that works best for your business.